GUIDED TOURS IN SEARCH OF TRUFFLES
During the guided search in addition to discover the precious secrets of trifulao, you will learn the various species of truffles, you will have the opportunity to accompany the dog in his meticulous research.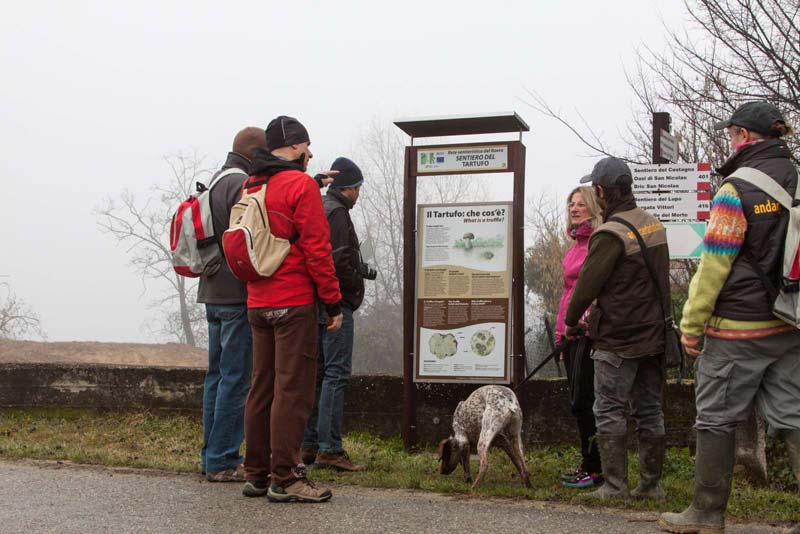 The guided search of truffles with "Andar per Truffles" may be made by telephone arrangement. Please wear appropriate clothing and comfortable shoes because you will be accompanied on easy paths in open country.
Some details and useful information for our tours:
Length of visit:2 hours.
Opening hours: chosen by the client.
Wear: comfortable shoes, sportswear or otherwise suitable for a short hike in the countryside.
Details: guided tour with direct experience of truffle hunting, with the possibility to accompany the dog in meticulous research, always accompanied by trifulao. Our "tabui" (trained dogs in search of truffles) are: Willy, Stella and Balin
Tafel trifulao: You can add a guided tour also "typical snack of trifulao," which includes local products and local wines. The snack of trifulao can be consumed in the woods or in a typical farmhouse immersed in the memories and traditions of the place.
Costs:
- € 70.00 until 4 people
- from 5 to 10 persons € 15,00 pax
- the price for groups can be arranged by email.